Join the fun and make a bowl cozy. This will make a potholder for a normal size soup or cereal bowl.  We will provide the material (pictured below) and batting free of charge.  You may bring your own material if you want a specific color.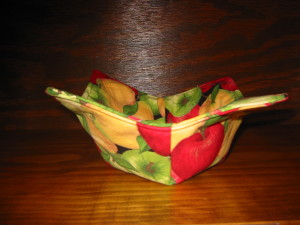 Supplies Needed:
2, 10″ square pieces of 100% cotton fabric
2, 9″ square pieces of batting*see note below*
Scissors
Thread
Sewing machine*If you are making this at home we recommend using "Warm Tater" batting. It has no additives or fillers. Some types of batting can catch fire in a microwave.