Monthly Archives:
November 2016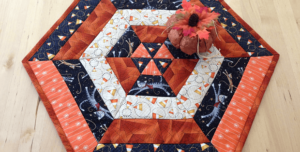 Candy Corn Table Topper
Sewing Class
Thursday, November 10th at 5:30 – 7:30 pm
Goodland Public Library
Supply List
Five strips of fabric cut 2 1/2 inches wide the width of the fabric (42-44").
Mix of lights, mediums and darks – for visual interest.
For backing you will need 3/4 yard of fabric with matching thread.
For more information call: Library 297-4431
Seating is LIMITED so please CALL to reserve your spot.